Overview of the Industrial Park
Introduction about Nhon Hoi IP - Park A
2. Land use planning Nhon Hoi Industrial Park - Park A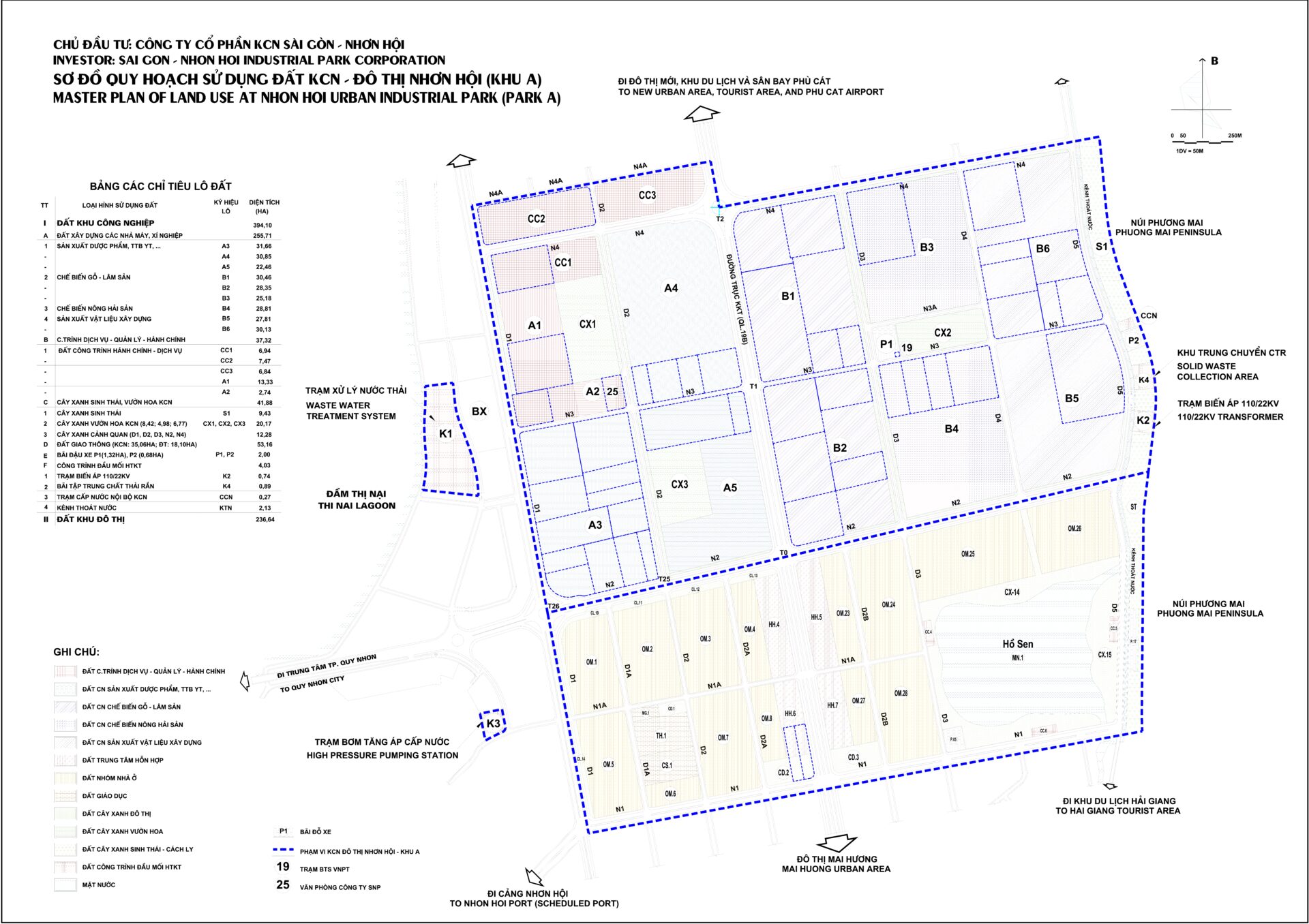 | | | | |
| --- | --- | --- | --- |
| TT | Type of land use | Lot symbol | Area (ha) |
| I | Industrial land |   | 394,1  |
| A | Land for construction of factories and enterprises |   | 262,75 |
| 1 |   | A3 | 31,68 |
| 2 |   | A4 | 30,88 |
| 3 |   | A5 | 22,47 |
| 4 |   | B1 | 30,48 |
| 5 |   | B2 | 28,43 |
| 6 |   | B3 | 25,17 |
| 7 |   | B4 | 28,83 |
| 8 |   | B5 | 27,81 |
| 9 |   | B6 | 30,16 |
| 10 |   | CC3 | 6,84 |
| B | Đất công trình dịch vụ – tiện ích công cộng |   | 30,50 |
| 1 |   | CC1 | 6,95 |
| 2 |   | CC2 | 7,47 |
| 3 |   | A1 | 13,34 |
| 4 |   | A2 | 2,74 |
| C | Eco-green trees, flower gardens in Industrial Park |   | 41,63 |
| 1 | Eco-green trees | S1 | 9,19 |
| 2 | Cây xanh vườn hoa KCN (8,42; 4,97; 6,77) | CX1, CX2, CX3 | 20,16 |
| 3 | Landscape greenery (D1, D2, D3, N2, N4) |   | 12,28 |
| D | Đất giao thông (KCN: 34,84 ha; ĐT: 18,11 ha) |   | 52,95 |
| E | Parking lot P1 (1,32 ha), P2 (0,68 ha) | P1, P2 | 2,00 |
| F | Technical infrastructure focal works |   | 4,26 |
| 1 | Transformer station 110/22 KV | K2 | 0,74 |
| 2 | Solid waste concentration ground | K4 | 0,89 |
| 3 | Internal water supply station | CCN | 0,50 |
| 4 | Water drainage | KTN | 2,13 |
| II | Urban land |   | 236,64 |
a/ By roads
The industrial park connects to the road transport system of the province and the whole country
- National Highway 1A: North-South arterial route.
- National Highway 1D: the west gate of Quy Nhơn city, connecting Quy Nhon with Phu Yen on National Highway 1A; and one of the strategic routes connecting the Central Coast region.
- National Highway 19: An important transport corridor connecting Quy Nhon seaport with the Central Highlands, Southern Laos and Northeast Cambodia; connecting the East-West economic corridor.
- National Highway 19B: The trunk route directly connects and shortens the journey from the industrial park to Phu Cat airport, which is an influential route that closely links from regions to Nhon Hoi Industrial Park connecting with National Highway 1A, National Highway 19.
b/ Seaport
Quy Nhon Port
As one of the three biggest international trading ports of Vietnam
Output of goods through the port: over 10 million tons/year.
5/7 wharves receive container ships 24/24 hours.

c/ Airway
Phu Cat Airport:
Airlines: VietNam Airline, VietJet Airline, Jetstar Airline, Bamboo Airway.

d/ Railway
Located on the North-South railway line.
Dieu Tri Station: One of the 10 major stations in Vietnam.