- Rainwater collection system: Pipe system is installed along all the roads of the IP to collect rainwater; Surface water in the investor's factory is connected to this pipe.
- Wastewater drainage system: The IP has pipes D=300 to D=600, which will collect investor's wastewater and lead to Nhon Hoi wastewater treatment plant. Wastewater treatment plant Phase 1: capacity 14,000m3/day. Phase 2: Capacity 53,650 m3/day.3.
– Process of connecting and signing a contract for wastewater treatment in the IP: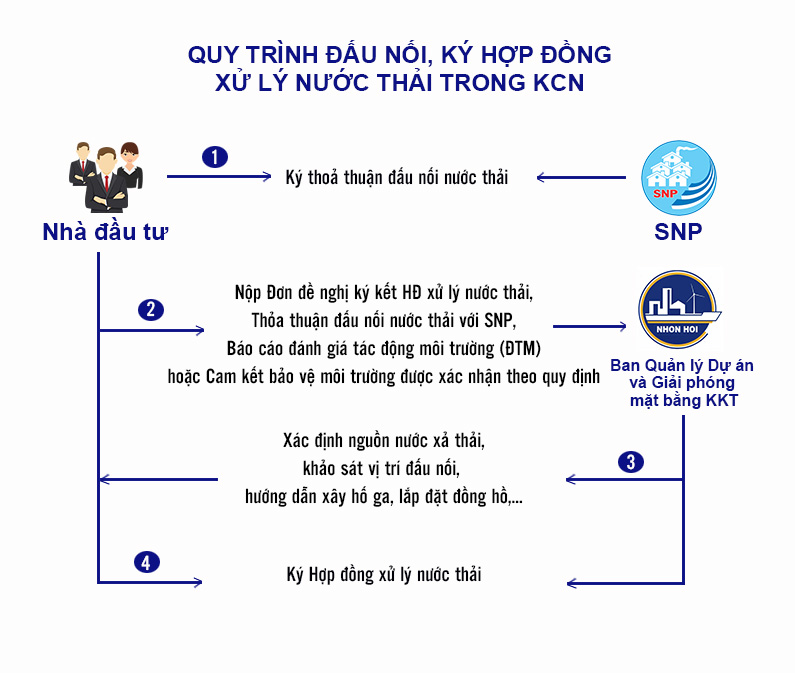 + Industrial and domestic wastewater of investors must be treated at Type B of the National Technical Regulation on Industrial Wastewater(QCVN 40::2011/BTNMT) before being discharged to the drainage wastewater system of the IP. The investor signs a contract with the EZ Management Board or a unit authorized by the EZ Management Board to treat wastewater.
- Waste treatment: the investor signs a contract with Quy Nhon Urban Environment Joint Stock Company to collect, transport and treat ordinary waste. For toxic waste, the investor signs a contract with Hau Sanh Trading & Environment Co., Ltd.