Vietnam's food processing industry has developed strongly in recent years. Step by step provides numerous highly competitive products, which will meet the demand of the domestic market and increase exporting activities.
Statistics from the Ministry of Industry and Trade show that the country's annual food consumption value is estimated at 15 percent of the GDP. In the last five years, processed food consumption has increased by 9.68 percent a year, and 6.66 percent for the consumption of beverages, which leads to the promotion of the development of the domestic food production and processing industry. Food processing industry becomes one of the most prioritized industry groups to be selected by the Vietnamese government and is going to develop from now to 2025, with a vision to 2035.
With synchronous infrastructure, fast procedures, and other benefits, Nhon Hoi A Industrial Park (which belongs to Nhon Hoi EZ, Quy Nhon City, Binh Dinh Province) continues to be an attractive destination for domestic and foreign enterprises that operate food processing industry.
Some merits when investing food processing industry in Nhon Hoi A IP.
Nhon Hoi A Industrial Park has a strategic location that is near Quy Nhon seaport - an important spot on the East-West corridor, the entrance to the East Sea of the South Central region, the Central Highlands and countries in the Mekong Subregion. The seaport plays a very fundamental role in serving the socio-economic development of the Central and Central Highlands Key Economic Region. The advantages of trade has created a competitive advantage for businesses, by taking advantage of the abundant and available raw materials and easily accessing a large consumer market; thereby increasing the production supply chain, building a fresh and clean source of agro-forestry-fishery raw materials, meeting the requirements of high quality food production and processing. Quality input sources will ensure finished products, meeting increasingly strict requirements of domestic consumers, even exporting in tougher markets.
Enterprises in Nhon Hoi A Industrial Park have favorable conditions to integrate into the domestic market and build product distribution channels thanks to the location that is located in the middle of the "North-South economic route" of Vietnam, connecting roads, railway, seaport, and airway. Being approached and distributed not only in the Central-Central Highlands but also in the South-North, products contribute to the growth of revenue and profit for businesses, and increase the market share of products. Also contributes to the economic growth of the whole industry and creates a positive meaning to the socio-economic development of the area.
In addition, the population of Binh Dinh Province is 1.5 million people and the labor force accounting for 55% of the population is also one of the competitive advantages of Nhon Hoi A Industrial Park, ensuring the strong growth and development of the food processing industry.
Some food processing industry investment projects
Thanks to the development prospects of the industry, advantages and favorable conditions that Nhon Hoi A Industrial Park has been bringing, many food processing businesses have grabbed the opportunity to expand production, expand markets, and built factories in the IP to achieve the goal of strongly rising the food's value output for processing, production and export. For instance, Tingco Binh Dinh beverage factory project with a production scale of 36,500 tons per year and An Hai frozen seafood processing factory project with a production scale of 15,000 tons of products per year.
As the higher demand of the market for beverage products with the attractive advantages of convenient location, abundant labor force and preferential policies of Nhon Hoi A Industrial Park; Tingco Beverage Group has invested in "Tingco Binh Dinh Beverage Factory" with an area of nearly nine hectares and initially achieved many important results. It has become a solid premise that creates favorable conditions for investment expansion, develops more product lines, and diversify the structure of canned beverage products in Binh Dinh.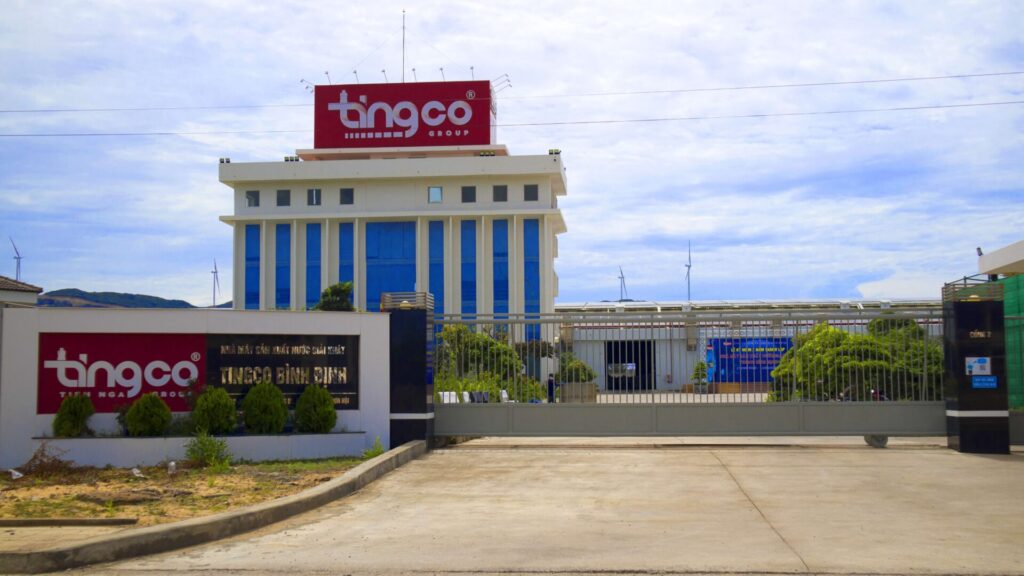 After the Tingco Binh Dinh Beverage Factory project went into steady operation, Tingco Binh Dinh Joint Stock Company continued to sublease nearly five more hectares in Nhon Hoi A Industrial Park to carry out the Cutting aloe vera seeds Factory Project. With a total investment of 165 billion VND, the project provides 10,000 tons of products per year to meet the demand for raw materials for the first Project, making a great contribution to the economic growth of the whole province.
Together with the development of Tingco Binh Dinh Joint Stock Company, An Hai Frozen Seafood Processing Factory of An Hai Seafood Company Limited is also a typical project of the food processing industry group in Nhon Hoi A Industrial Park. The project has a total investment of 300 billion VND, their goal is to process and preserve seafood and aquatic products with a capacity of 15,000 tons of products per year. The project has been creating job opportunities for hundreds of local people, increasing export turnover. In the future, An Hai is planning to grow their production, increase the factory's area and invest in technology lines to process canned products. An Hai aims to exploit local raw materials as well as the advantages of natural resources, and human resources at Nhon Hoi A Industrial Park.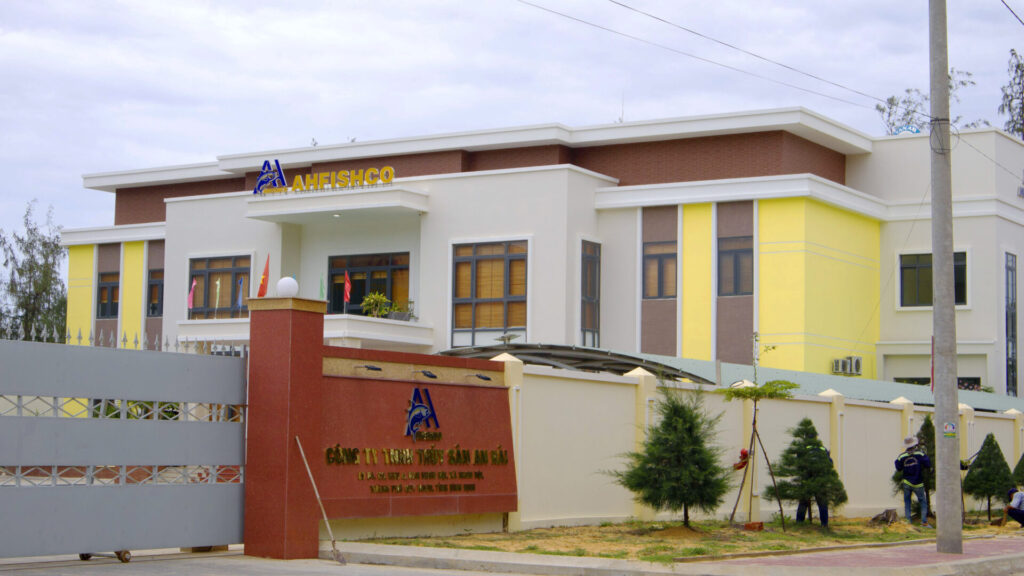 Food processing industry projects with clean and environmentally friendly technology is prioritized to attract investment in the IP.
When operating, each industry has its impacts on the environment when. Therefore, to promote socio-economic development for the province, improve production and export capacity and at the same time attach economic benefits and environmental protection; The investor of Nhon Hoi A Industrial Park - Saigon - Nhon Hoi Industrial Park Corporation (SNP) only prioritizes attracting large-scale food processing industry projects, applying production procedures and technologies which are clean, modern and environmentally friendly; ensure the sustainable development of Nhon Hoi A Industrial Park ecosystem.